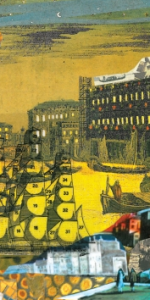 Pictures from Italy is one of Charles Dickens' earlier works, a fantastic and whimsical foray into the twin worlds of travel and the imagination. Written in the 1840s when he took a respite from the writing of novels and traveled with his family to the continent, it is a travelogue offering a rare glimpse into the life of the great author.
In this illustrated edition by Tara Books, Italian artist Livia Signorini takes inspiration from Dickens' words and plays with his sense of place, memory, and politics. The result is a brilliant contemporary dialogue with his work — a reading of history, time and change — which renews our sense of his enduring vision.
Pictures from Italy is a tribute to the world of the great master in the 200th year of his birth.
Category: Artelibro suggests