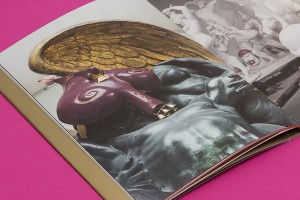 AnderSennoSogno – Luigi Ontani
Book Launch/Book Signing
Sunday 24 February
3-7pm
In occasion of the finissage of the exhibition AnderSennoSogno, curated by Luca Lo Pinto, the catalogue published by Boabooks will be launched in the presence of the artist.
Hendrik Christian Andersen Museum
Via Pasquale Stanislao Mancini 20
Rome – Italy
AnderSennoSogno
All the rooms in the Hendrik Christian Andersen Museum are disguised with the image of Luigi Ontani. The Emilian artist represent a brand new interpretation of the conventional exhibition layouts. On the occasion of AnderSennoSogno, the Museum dedicated to the life and works of Hendrik Christian Andersen become a path at the same time both exotic and local. The book conceived has a survey of the show in close collaboration to the artist and the curator let us navigate in a journey around artworks and the architecture of the exhibition space. The clash of the aesthetic involved by the space give a new light on the old artwork exhibited by the artist and sublimated the new production. Ten copies feature drawings inside the multiple cover by Luigi Ontani.
Luigi Ontani | ISBN 978-2-940409-58-7
Essay: Luca Lo Pinto | Italien/English
Softcover | 128 pages + 5 covers | 165 x 240 mm.
Offset, First Edition | CHF 26 / € 24 / $ 28
http://www.boabooks.com/books/andersennosogno/
Category: Primo piano