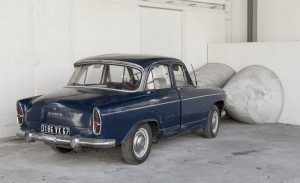 Zhanna Kadyrova. Album 2013
Presentation and Cocktail Party celebrating the book release
Palazzo Loredan in Campo San Stefano, Venice
31 May, 3-5 pm
The aim of the Foundation of Vladimir Smirnov and Konstantine Sorokin is to support young artists, implementing projects and spreading information about the new generation, both in Russia and abroad. We are proud to present the catalogue of an outstanding artist whose oeuvre we have been closely following in recent years. Her name is Zhanna Kadyrova.
Zhanna Kadyrova was born in the Ukrainian town of Brovary and graduated from the department of sculpture at the Taras Shevchenko School of Art in Kyiv. Since 2002, she has contributed to many exhibitions, including fifteen one-woman shows and over a hundred group exhibitions. Kadyrova collaborates with the Galleria Continua (San Gimignano / Beijing / Le Moulin). She has won many contemporary art prizes, such as the Kazimir Malevich Artist Award (2012), Sergei Kuryokhin Award for public art (2012), grand prix of the "Kyiv Sculpture Project" International Festival of Contemporary Sculpture (2012) and special prize of the PinchukArtCentre (2011). Zhanna Kadyrova is a member of the R.E.P. (Revolutionary Experimental Space) group. She lives and works in Kyiv.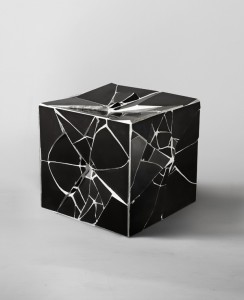 Zhanna Kadyrova differs from other artists working in the field of objects and urban sculpture. From her very first independent steps, she has distinctly felt and clearly defined her range of materials and artistic issues. These are the cheap tiles and cement commonly encountered in post-Soviet urbanism – materials often used by builders as a panacea for constructive defects, miscalculations or technological deficiencies. To this day, tiles are still widely used to line facades in Ukraine. Incorporating all the potency of popular "low" culture, bright and shiny, the tile is the material of Zhanna's mosaics, her broken and ambivalent objects and sculptures, which sometimes seem so fragile and transient. When handled by Kadyrova, even kitsch lacks its customary self-sufficiency, endowed instead with complex feelings of nostalgia, yearning for lost sincerity and the frailty of worldly fame and prosperity.
Although still a relatively young artist, Zhanna Kadyrova is already one of the most influential figures in the contemporary art process of Russia and Ukraine. In Moscow, she has participated in many landmark exhibitions of contemporary art, including Urban Formalism at the Moscow Museum of Modern Art (2007), The Conquered City at the Regina Gallery (2009), WC (2010), Test Alarm (2011), On/Off (2011) and Angry Birds (2012). The four latter shows were organised by the Foundation of Vladimir Smirnov and Konstantine Sorokin.
Category: Artelibro suggests