FRUIT. Focus on Contemporary Art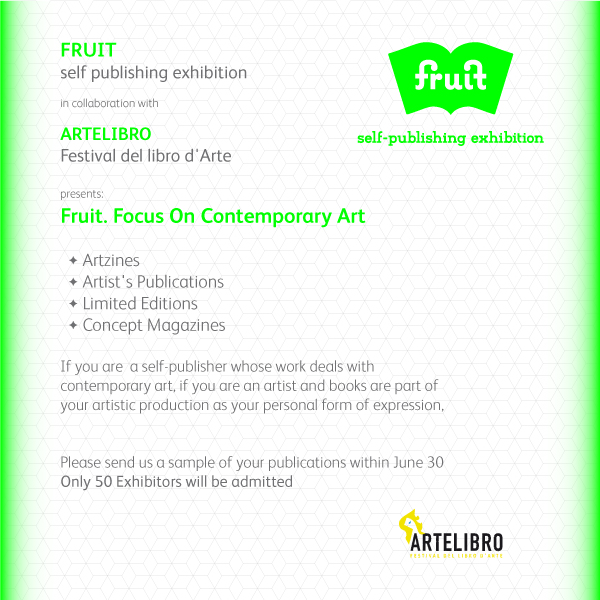 The 9th edition of Artelibro Art Book Festival will take place in Bologna from Septembre 21 to 23, 2012 inside Palazzo Re Enzo e del Podestà, Piazza Maggiore, an event which, like every year, will attract a consistent number of art book publishers, fans and professionals as well as interested in art and artistic publishing (50.000 visitors in 2011).
The main theme of this edition, Books Collecting books: collecting means seeding.
Whatever is considered rare and unique books will be show at Palazzo Re Enzo: antique books, limited edition publications, unique pieces created by the artists, niche and experimental publishing, specialized releases and magazine.
The cultural program will consist of various section: artist's books exhibitions, professional meetings, books and projects presentations, lectures for a wide public, workshops and activities for young people.
The novelty of this year, FRUIT. Focus on contemporary art, is a project about international self-publishing art editions.
Created in collaboration between Cultural Association Crudo and Artelibro, FRUIT has contemporary art as specific focus. The most innovative 50 self-publishing art editions will be displayed in a big collective exhibition space inside Palazzo Re Enzo e del Podestà.
The collective booth makes easier the presence of little editing houses or those single operators that wish to expose their proper artwork even if they do not have the possibility to participate with their own booth or to invest in travel and accomodation.
The exhibition area is projected by FRUIT in collaboration with Artelibro and will be managed by specialized staff which will give information, check on the space and sell editions.
Artelibro and Crudo will not retain any commission on sales of the publications.

Applications will be accepted until June 30, 2012.
For partecipation, a contribution to secretarial expenses in amount of € 150,00 + VAT is required. Books shipping charges will be at exhibitor's charge. Apart from the above mentioned ones, no further costs will be applied to this service.
Contacts:
Irene Guzman
Artelibro Art Book Festival
irene.guzman@artelibro.it
www.artelibro.it